Like a lot of things in life, bike riding starts with learning the basics. When kids get their first bike with training wheels, they have a lot to learn all at once – steering, braking, pedalling, and balance – which understandably can be a bit of a struggle!
If you're keen to support your child who is learning to ride, it might be worth looking into a bike assistance handle. In this article, we are going to be looking at kids' bike assistance handles, including what they are, why you need one, when you should use one, and what you should be looking for in a handle.
What is a kids' bike assistance handle, and why do I need one?
Bike assistance handles are a great way for parents to support their kids whilst they're learning to ride. Simply clip an assistance handle onto your child's bike, and keep hold of the handle to: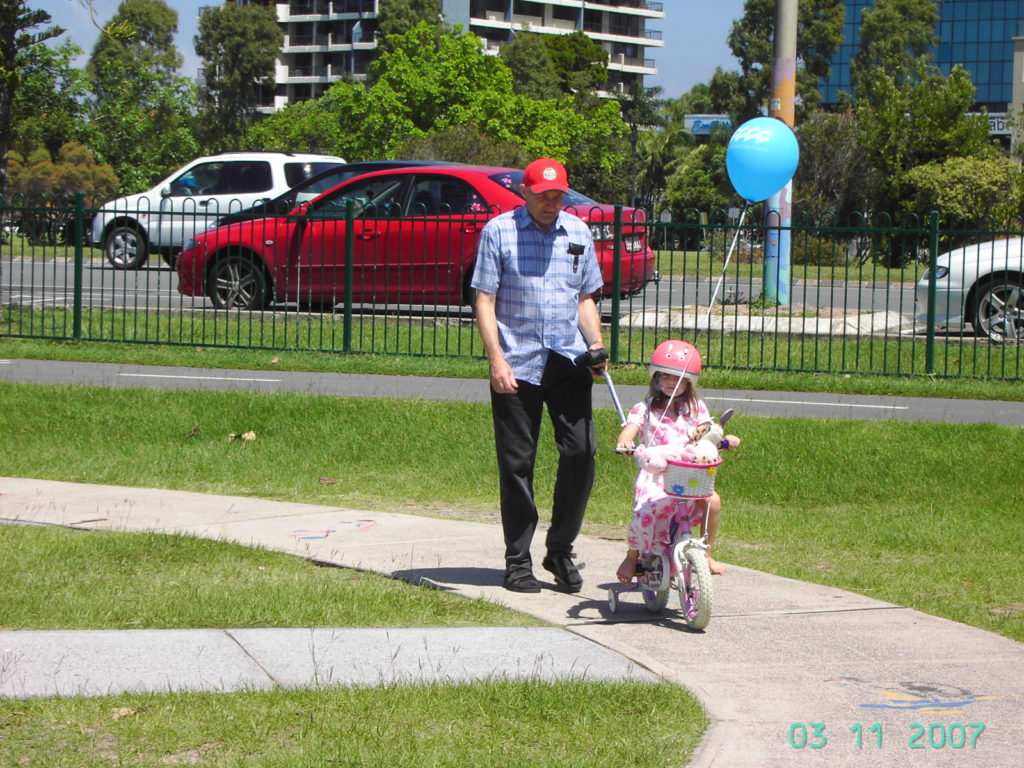 Reassure your little one as they continue to grow their confidence on their first rides
Keep their bike on course when they get distracted looking around at their surroundings, putting an end to crashes, tears, and grazed knees
Put in the muscle on those rises where they need a little extra helping support
Give them a hand braking on steep downward hills
Control the speed they are riding at
Provide that extra push where needed
Best of all, parent assistance handles are great for when your little one gets tired. Instead of the all-too-common problem that you always see down the park, where parents are having to carry their child as well as the bike back home or to the car, just leave them on the bike, and use the bike assistance handle to do the hard work for them.
When should I use a kids' bike assistance handle?
The best time to use a bike assistance handle will depend on where your child is in their journey of learning to ride. This is because there are two main types of bike assistance handles: push handles and training handles. Each of these are intended for different stages of the learning process as you help your child learn to ride.
Push handles are designed to be used on children's bikes with training wheels or stabilisers. They are ideal for when your child is first learning to ride, but just needs some extra support and assistance for their first couple of rides on a "big bike".
Push handles for child bike riding are the type we specialise in at PUSH ME HOME. Our telescopic, extendable push handle allows you to do all the things we mentioned before and more, but with much less strain on your back. Gone are the days when you had to crouch over to be able to hold on to your child's bike. Instead, just clip on the assistance handle, and hold on – with absolutely no bending over or crouching down required!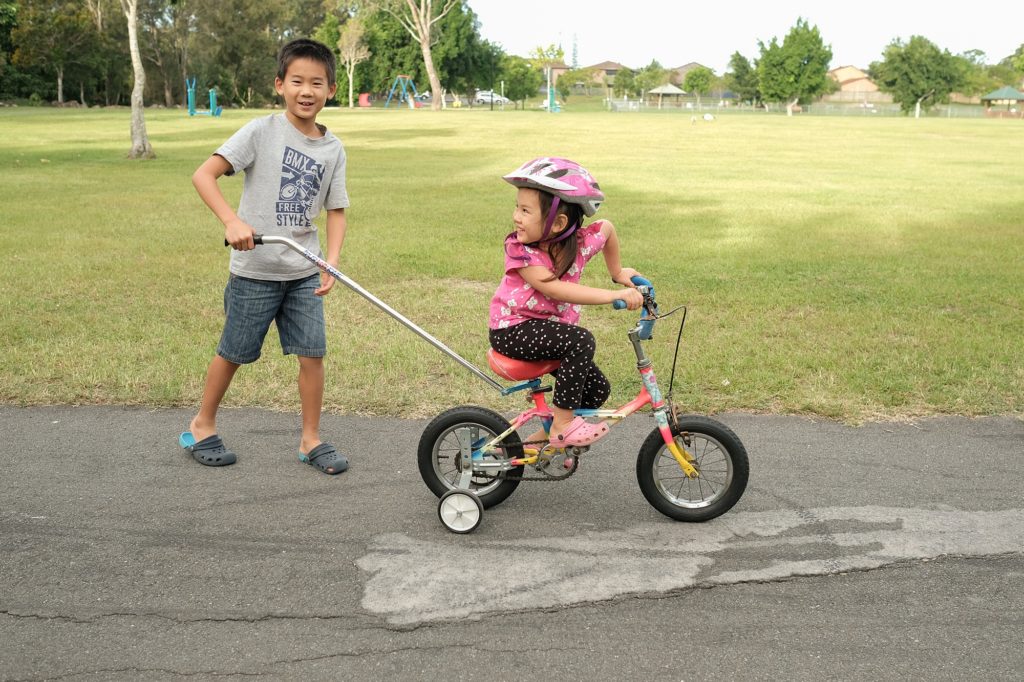 The other type is training handles. These are a different type of assistance handle to push handles. Whereas push handles are designed for use with stabilisers or training wheels, training handles are designed to be used once the training wheels are off, and your child is learning to ride by themselves without any stabilisation for the first time.
Training handles can be used at this stage keep your child balanced as they grow their confidence, though they are typically only needed for a very short time, as children learn to balance on their bikes very quickly!
Please note that we do not offer training handles at PUSH ME HOME.
What should I be looking for in a kids' bike assistance handle?
If you've been looking into assistance handles for your kid's bike, you're probably already aware that there are a lot of parent push handles on the market. If this is your first time buying a push handle, it can be tricky to know what to look for.
There are a few characteristics that are must-haves when it comes to choosing a kids' bike assistance handle. For example, it should be safe, comfortable, strong, flexible, and easy to use. At PUSH ME HOME, we have designed our push handles with all of these characteristics in mind. The result is a premium product that not only makes childhood cycling fun and supports active children, but makes mum and dad's job easier too!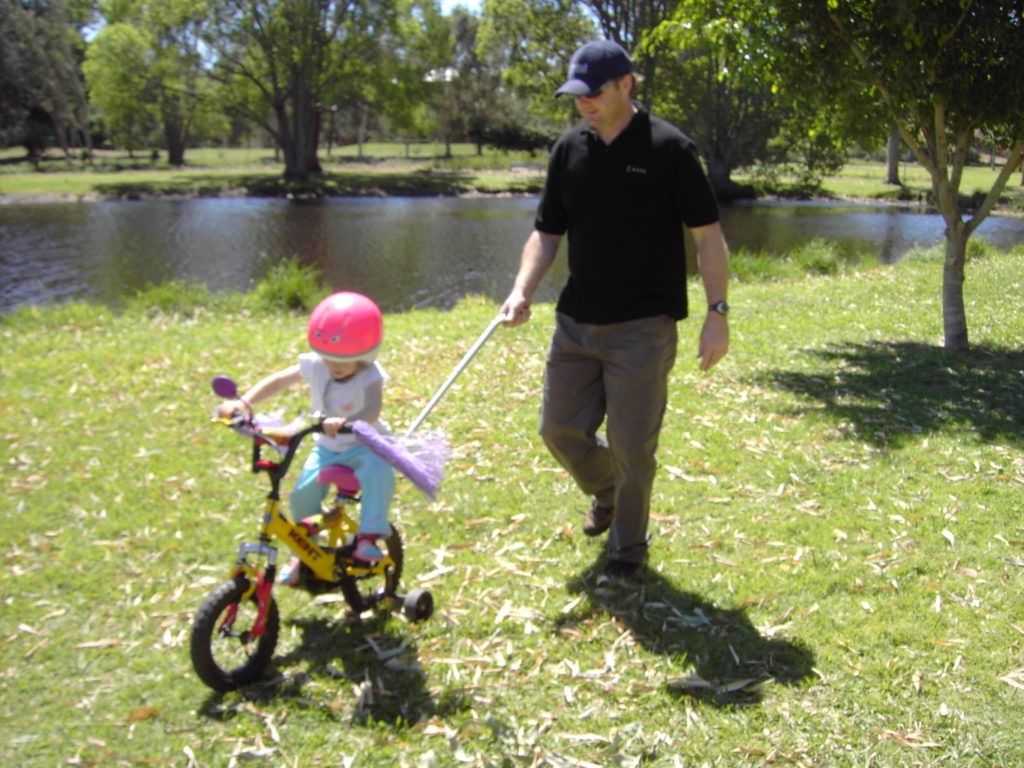 Here are a few reasons that you should choose PUSH ME HOME:
Australian family-owned and operated company
Choose from pink or blue product colour
Suits all bikes, with an additional clamp to suit tricycles also available
Our PUSH ME HOME kids' bike assistance handles have been designed with safety in mind, first and foremost.

One of the biggest risks with the permanently fixed handles seen in other assistance products is that they can cause the bike to overbalance and fall over if the child attempts to ride whilst a parent or carer is not holding on to the handle.

That's why PUSH ME HOME handles are easy to attach when you are going out with your child for a ride, but can just as easily be detached when they're ready for some solo practice around the yard or at the park.
We look after you as well! PUSH ME HOME's flexible ergonomic design and swivel clamp means our extendable telescopic push handles can be easily adjusted to suit your height – no matter how short or tall. Walk alongside your child or hold on from behind, and stay comfortable while you do it.
PUSH ME HOMES's high-strength aluminium assistance handles have been lab-tested to ensure the very best in strength and durability. Enjoy riding with your child without having to worry about breakages!
Our PUSH ME HOME push handles are also super easy to use and attach, with absolutely no tools required to assemble! Everything just clips on. The lightweight handle attaches to the seat post of a child's bike, with minimal height adjustment needed.
Like what you see? Become a PUSH ME HOME parent today! Click here to find out more about our products.